We really like working with Nordic countries and we found so many similarities and joy in working together. Our partnership with the Nordic countries continues to grow as our reputation in this region is becoming well known.
As we developed our strong partnerships with such companies (Willba success story), we identified a set of differentiators that makes Moonlysoft a great fit for working with Nordic countries. In this article, we will discover together the first 4 elements that make us a great fit.
Romania, the second-largest country in Eastern Europe, has quickly become a thriving hub for software development outsourcing. With approximately 131,000 IT specialists, primarily between the ages of 25-34, Romania offers an abundant supply of young, talented developers ready to tackle complex projects.
Romanian IT professionals are well-versed in providing outsourced software services, which grants them a competitive edge in adapting to diverse work environments and seamlessly integrating with Western business cultures.
Concerning language barriers, there is virtually no cause for concern. According to Eurostat, 90% of Romanian university students are proficient in English, while 26% speak French, 17% Spanish, and 8% German. This linguistic prowess ensures smooth communication between Romanian developers and their Nordic clients.
Romania's impressive educational system produces over 6,750 tech graduates annually, specializing in engineering and computer science. The country boasts 41 technical universities, three of which are globally ranked. This robust academic foundation guarantees a steady influx of highly skilled professionals into the software development industry.
With nearly 131,000 professional developers, Romania has witnessed consistent growth in its technical talent pool. The year-over-year increase in the professional developer talent pool surpasses that of Austria, the Czech Republic, Denmark, Bulgaria, Hungary, and Croatia.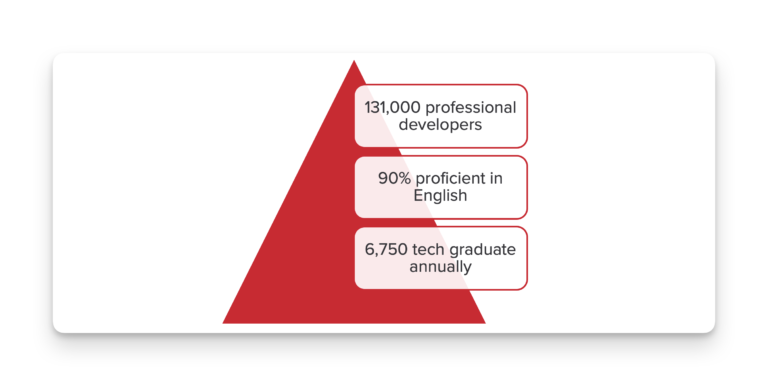 In terms of costs, in-house delivery is in many cases more costly than own employment but many times it compensates due to the temporality of the assignments and volumes. Instead, nearshoring provides clear benefits generating 100% more savings than in-house arrangements, and even more compared to onshoring. See below a calculation example of the total costs of engagement compared between in-house-nearshoring models.
Proximity and time zone alignment
Our Romanian headquarters is advantageously positioned in close proximity to your in-house teams in Finland, Sweden, and Norway, ensuring efficient and effortless real-time interactions. This proximity allows for seamless communication and collaboration between Moonlysoft and your in-house team, ensuring efficient and effective real-time interactions. With the minimal time difference, onsite visits and face-to-face meetings are more accessible, further fortifying the partnership between Moonlysoft and esteemed Nordic organizations.
Our shared Eastern European Summer Time (EEST) with Finland and a mere one-hour difference with Sweden and Norway (Central European Time, CET) minimize delays and misunderstandings, enabling prompt decision-making and problem-solving.
Partnering with Moonlysoft allows Nordic companies to diversify their supplier base, reducing dependency on a single provider and mitigating potential risks. This diversification helps businesses navigate unforeseen challenges, ensuring steady progress even when faced with unexpected obstacles. Moonlysoft's proactive approach to risk management ensures that businesses remain resilient and better prepared to address any potential issues that may arise.
Enhanced Flexibility and Scalability: As businesses grow and evolve, their software development needs may change. Moonlysoft's flexible and scalable solutions allow Nordic companies to adapt their development strategies quickly and efficiently, minimizing potential risks associated with rigid, long-term contracts.

Cost Savings: Outsourcing software development to Romania can result in significant cost savings for Nordic companies. With lower operational costs and competitive pricing, Moonlysoft allows businesses to allocate resources more effectively while still receiving high-quality services.

Faster Time to Market: Moonlysoft's agile development methodologies and dedicated teams enable Nordic companies to bring their products and services to market more quickly, giving them a competitive edge in the fast-paced technology sector.
These are just a few of the benefits of nearshoring compared to onshoring or in-house. As this is the first part of a series on Leveraging Nearshoring: How nordic countries can thrive during uncertain economic times, the next advantages will be presented in Part II.